Saturday, 10 February 2018 17:03
Phú Mỹ Hưng flower fest opens in HCMC
HCM CITY — The 2018 Phú Mỹ Hưng spring flower festival opened on February 9 at Phú Mỹ Hưng City Centre in HCM City's District 7, with an opening ceremony on Crescent Lake.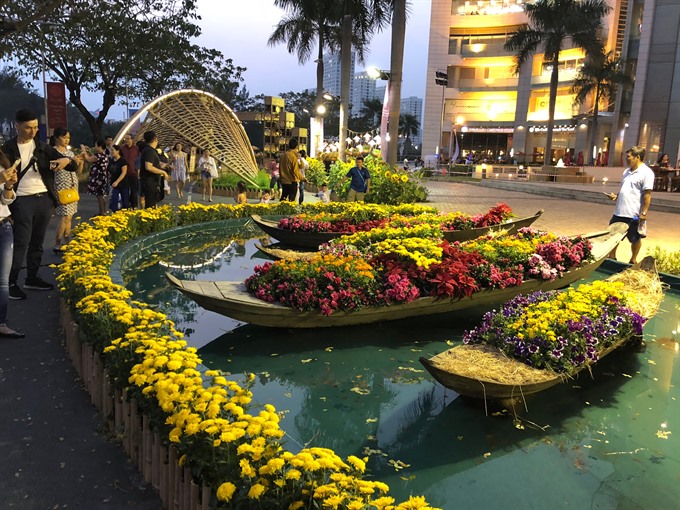 To go on until February 20, the festival this year is expected to attract millions of visitors from the city and neighbouring provinces.
With the theme of "River in Spring", this year's festival will feature life along rivers.
Phú Mỹ Hưng Development Corporation said the festival this year had been inspired by the culture and features of Nhà Bè waterfront and the south of HCM City where its Phú Mỹ Hưng City Centre is situated.
On an area of 7ha on the Crescent Lake, the festival will re-create life on rivers, especially olden days in the Nhà Bè County.
The company said there were many advantages that would help achieve this inspiring concept because the Phú Mỹ Hưng City Centre is situated on the waterfront of ancient Nhà Bè, which is surrounded by many rivers and has many natural ponds.
The festival this year will be divided into four parts called Spring Road, Spring Wharf, Spring Garden and Spring Contribution.
Nhà Bè will feature in Spring Wharf.
In this area, artists will install raft houses, boats and barges to re-create the story of Thủ Hoằng, a person who built rafts to create a station for passing traders. That was also the origin of the Nhà Bè area.
Walking on Spring Road, visitors can enjoy the amazing Rain Garden, a beautiful and romantic work of creativity.
Visitors can take an umbrella and walk in the 'rain' to enjoy the spring feeling and take photos.
Unlike previous years this year the Spring Garden will not be in an isolated area but will be connected to Spring Road through Starlight Bridge.
This year the event will have a large space with 250 booths selling flowers and ornamental trees. Another 80 booths will sell local specialities.
Phú Mỹ Hưng said it had earlier organised an ornamental flower competition with many prizes awarded including for wild flowers and orchids.
For the first time a competition for Phú Mỹ Hưng residents for growing potted trees and flowers was held.
The first prize was won by Vũ Thị Vân Dung.
A photo contest will be held in collaboration with the Sài Gòn Post and Telecommunications with prizes for the best family photo and best photos of women and children. Information about the contest can be found in the Đường Xuân Phú Mỹ Hưng Spring Flower Fair fanpage. — VNS